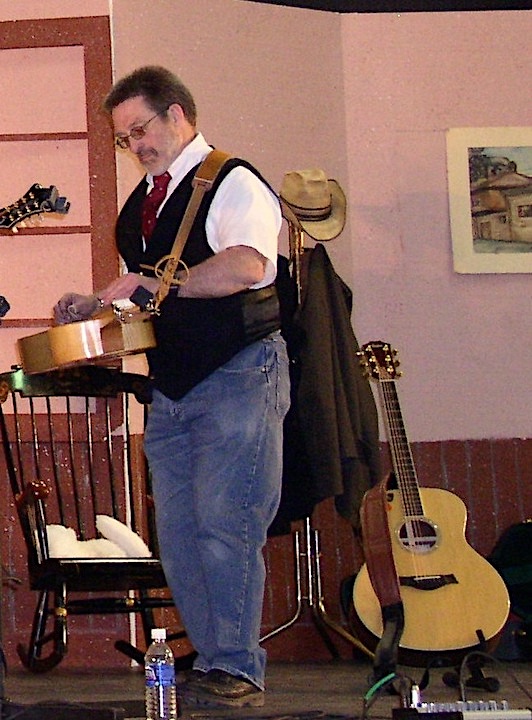 Dave Peterson | Guitar, Banjo & Dobro | Vocals
Self taught on guitar, started when I was in 8th or 9th grade; self taught on bass guitar, banjo, resonator guitar (dobro) and mandolin; in other words, master of none, but it has been fun learning along the way!
What you like about being in this band:
It has been fun being involved in a band where we literally started from scratch in the fall of 2003 and over the years have learned as we have gone along.
For me the advantage is that since none of us were dyed in the wool bluegrassers before we started, we came onto the scene without preformed biases concerning the mentality that "if you don't play it like so and so, it isn't bluegrass."
We play gospel music with a bluegrass flavor. In addition I like the fact that we do not have to depend on one person to carry lead singing. While some prefer singing harmony, each of our players can take lead a song and this provides variety to the listener's ear. The other great thing is that we view the band as a music ministry where we share our talent and not as a means to enrich our personal pocketbook.
Hobbies, things you like to do, etc.:
My hobbies have changed over the years, some I have dropped along the way but those that I still enjoy involve working with my hands so I do carpentry projects and volunteer opportunities along that line.
Another interest is researching family history and putting together a story to pass on to future generations to those family members who are interested. Over the years I've enjoyed putting together and working in my basement shop on scroll saw and woodworking projects. I also enjoy songwriting.
Spouse:
My wife Mary, a retired registered nurse who worked many years in the home care and hospice field, and I have been married for 50 years (as of 2019) and counting. We have 2 grown children, Jennifer married to Scott and Andrew to Yumi. Andrew and Yumi have one child, Duane, born in 2016.
Anything else you'd like to add so folks can know more about you.
Retired teacher and wrestling coach. Taught and coached at Graceville and Crosby-Ironton in Minnesota.