The Evolution of A Gospel Church Band
The Churchyard Gospel Bluegrass Band has evolved through the years with a core group of musicians. Other players have performed with the band and we thank them all for their contributions to our ministry.
This core group has kept the original concept of the band in tact and was originally composed of Dave Peterson, Denise Kalevik, Greg Kalevik, Denny Henrichs, Jane Troge and Wendy Chirhart.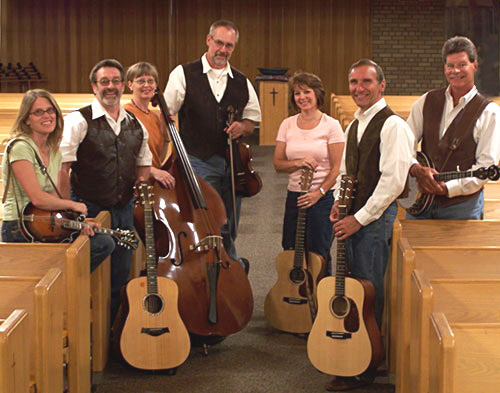 In 2005 Brad Miller (on right) joined the band bringing his 5-string banjo and vocals to the group.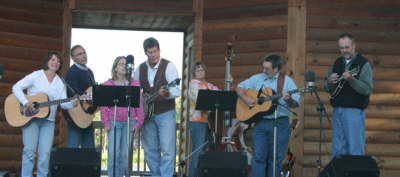 Full band playing at Music in the Park at the bandshell in Crosby around 2007.
The core group who played together from 2010 through 2019.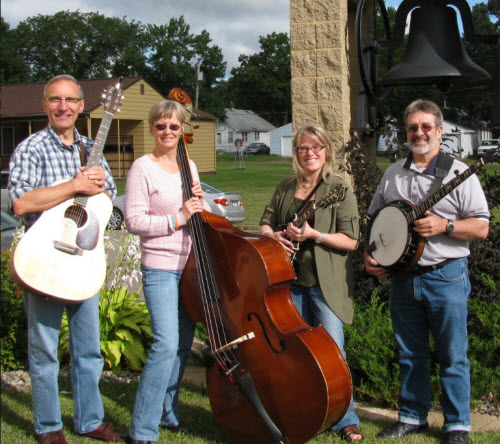 Official History of Churchyard from Dave Peterson
The idea to form a gospel bluegrass group originated with Greg Kalevik who had presented the idea to Pastor Paul Mattson at Immanuel Lutheran Church. Greg then ran it by Dave Peterson while they were playing at a jam session. The concept was to incorporate gospel music with a bluegrass flavor into a monthly church service at Immanuel. This occurred during a time when an effort was underway to expand the music ministry at Immanuel. Dave had recently concluded a music interest survey where some in the congregation expressed an interest in participating in church music activities at Immanuel.
Greg was the only one who had experience playing bluegrass music. He and his wife, Denise, moved to the Crosby area from New London where Greg was active in bluegrass activities, among them organizing the New London bluegrass festival. Denise made her interest known to become part of this bluegrass gospel group project and was willing to learn to play bass.
Armed with responses to the survey previously mentioned, Dave invited Wendy Smith (now Chirhart), Jane Troge, and Denny Henrichs to a meeting to discuss if they would be interested in joining a new music venture at Immanuel. Once they listened to the concept presented to them by Greg and Dave, they agreed to join the venture. Practices began in the fall of 2003 and the group began to become familiar with bluegrass music, and the group's debut performance kicked off on Sunday, January 4, 2004.
Denny dusted off his guitar he had played some in his youth. Jane began learning a new music genre and added her guitar. Wendy at first did vocals but later began to learn to play mandolin to add a rhythmic and chop component. Denise started from scratch, first on a 4-string electric, and then switched to an upright "doghouse" bass. Dave began learning banjo and dobro to mix into some of the songs. Greg played mandolin and fiddle and sang harmony.
Within two years of the band startup, Brad Miller – an experienced banjo player, joined the group to add banjo to each song as well as an additional vocal. Thus the early years of the group involved learning about bluegrass music, blending harmony, and for some learning to play an instrument.
The group name was originally Churchyard Grass but was shortened to Churchyard after discovery of a group in Virginia with the same name, so in order to avoid confusion or any issues, "Grass" was dropped. The name Churchyard is intended to portray a group having fun playing and singing gospel music with a bluegrass flavor surrounded by the grassy grounds of the church.
Over the years the makeup of the group has changed.  Around 2010 Greg decided to leave the band.  Jane retired from the group in 2011 and Brad had taken an extended leave of absence after playing with the group for several years.  Along the way Paul Fairchild played harmonica with the group before moving to Grand Marais, MN.  In 2020 Brad rejoined Churchyard, thus the banjo is once again incorporated into each song.
Since the band's origination they have played at well over 500 events at area church services, concerts, funerals, weddings, care centers, assisted living residences, and other special events.
Currently the band is made up of:
Denise Kalevik, vocals, bass
Wendy Smith Chirhart, vocals, mandolin
Denny Henrichs, vocals, guitar
Dave Peterson, vocals, guitar, dobro & banjo
Jane Troge, vocals & guitar